KCR Ensemble
K for Kindness, C for Charity, R for Respect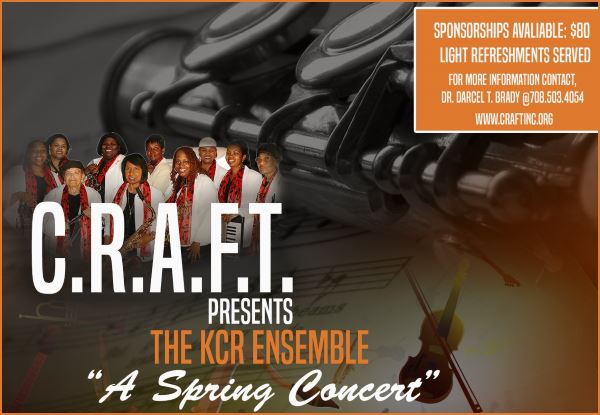 KCR Ensemble was co-founded by Charlotte E. Jones and Rita Hassell in March 2000. Rita and the late Ms. Jones, an extraordinary pianist, were impressed with the video performances of the all ladies orchestra — the International Sweethearts of Rhythm. Charlotte and Rita made a commitment to re-create an all ladies orchestra from among their musical acquaintances in Chicago.
KCR Ensemble is currently a group of eleven female
musicians who are committed to performing live music while maintaining their professional careers in Education, Law, and Marketing.
KCR Ensemble's unique sound evolved from a blend of their extensive backgrounds in performing Big Band Jazz, Blues, Contemporary and Gospel music.
KCR Ensemble has been recognized in Chicago print, radio and television media: Chicago  Tribune Magazine, ABC7 Morning News Show with Linda Yu / Judy Su and a WGNTV Cover Story "Soul Sisters" by News anchor Allison Payne. The group has also received a number of prestigious awards.
Saturday, March 26, 2016
 1:00 p.m. – 3:00 p.m.
Sun River Terrace Community Center
7219 E. Chicago St.
Sun River Terrace, Illinois 60964
Tickets: $35
Proceeds will benefit
C.R.A.F.T.
Hezekiah Brady Jr. Scholarship Eagles Program
Student Adoption Program
 Tickets will be available for purchase
February 1, 2016.
Sponsorships Available: $80
Reserved seating for one
Name in program
Information about business/organization on sponsor's table