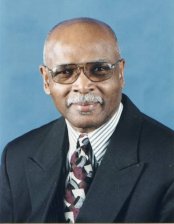 The Hezekiah Brady, Jr. Scholarship was established in 2005 in memory of C.R.A.F.T.'s founder, Rev. Brady's greatest heart's desire was the salvation of young people and their families.
His other desire was to assist African-American young people to reach their fullest God-given potential.
The Scholarship will be offered once a year to an enrolled junior or senior college Student Adoption Program participant. The recipient must have at least a cumulative 2.75 GPA and must show leadership qualities as part of the application process.
Scholarship Recipients
$21,750 has been awarded to 14 scholars since 2005:
2005-2006 School Year
Keisha Williams-Xavier University
2007-2008 School Year
Maurine Lloyd-LeMoyne-Owen College
Shana Miles-Howard University
2008-2009 School Year
Sade' Johnson-St. Joseph's College
2009-2010 School Year
Wylodean Ledbetter Lynch-Tennessee State University
Chantel Johnson-St. Joseph's College
2010-2011 School Year
Francesca McGee-Elmhurst College
2011-2012 School Year
Christine Foster-Eastern Illinois University
2013-2014 School Year
Brandi Price-Columbia College-Chicago
2015 School Year
Brandi Price-Columbia College-Chicago
2015-2016 School Year
Kayla Pendleton-Georgia Southern University
2016-2017 School Year
Ariel Gibbs-University of Illinois-Chicago