"We make a life by what we give"
Hezekiah Brady, Jr. (1929-2004)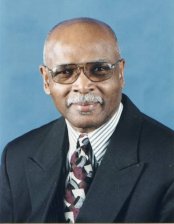 Rev. Hezekiah Brady, Jr. lived by these words. After moving to Pembroke in 1952, Rev. Brady devoted his life to the families and young people of Pembroke/Hopkins Park, IL.
Thirty five years ago he acted upon his burden, compassion and concern for the plight of our young people and established the Center for Re-Creation And Family Training (C.R.A.F.T.).
The C.R.A.F.T. Organization primarily serves the youth and families of the Pembroke and Hopkins Park, Illinois. The community has one of the highest poverty rates in the state.
The residents of the community suffer from all of the issues that are companions of a poverty-stricken community: drugs, violence and the accompanying abuses. This poisonous environment has to be counterbalanced with a positive option for the community, so C.R.A.F.T. offers that alternative.
For more than 30 years, Rev. Hezekiah Brady, Jr. steered the organization and gave much of the vision and energy to programs implemented by C.R.A.F.T.
His lord said unto him, Well done, thou good and faithful servant: thou hast been faithful over a few things, I will make thee ruler over many things: enter thou into the joy of thy lord." (Matthew 25:21)
In His Stead
Before the beginning, the Sovereign conceived
Of creating the heavens and earth.
Then at the command of his spoken word,
His universe came to birth-
With a singular purpose: him glory bring,
Then considering all He'd made;
"It's good! All's good! It's very good!"
Was His praising accolade.
Yet, the Triune God – the Three in One,
Hadn't finished their glorious plan
Their crowning glory was yet to be:
"In Our image, let Us make man.
An Intellectual, moral and spiritual being,
To function in our stead,
Maintaining an orderly universe,
As by Our Spirit they're led."
So all who are privileged to serve mankind-
Whether lawyer, or judge, or whom-
Should act in a spirit of humility,
For it's God's place they assume.
Then they'll serve with honor — yet, trembling and fear,
As they wait for that Day to arrive,
When we all stand in His presence, for reward or loss,
For the deeds we performed in our lives.
It's not the quantity-how much we did-
Nor the popularity we won.
It's not our successes – but our FAITHFULNESS,
That will assure the ULTIMATE -"Well done."
Rev. Hezekiah Brady, Jr. 2000, Revised 2002